Medtronic PB560 Portable Respirator
Medtronic, a world leader in medical technology, released the specifications and design files for its PB560 portable ventilator in a recent press release. Since then, many of the world's leading manufacturers have been working on their own ventilator designs to manufacture new ventilators for the fight against VID-19.
Medtronic Press Release of April 8, 2020
Neogy®, actor in the fight against Covid-19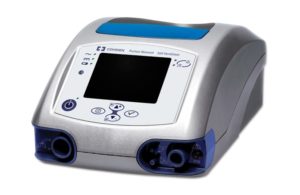 Thanks to the expertise of its teams, Neogy® and all the companies of the French group Startec Energy® have decided to support these manufacturers by developing Neoli 25, a 25V lithium-ion battery to equip the PB560 portable respirator.
Neogy® now offers a battery perfectly adapted to the respirator, while respecting the different standards of the medical sector. Its design is the result of a collaborative work within the Startec Energy® group with the Clairitec® company, expert for more than 15 years in the manufacture of graphic cards and displays for Medtronic PB560 respiratory ventilators.
Neogy® has also cooperated with BMS Powersafe, the Startec Energy® group's battery management card design company. Neogy® has developed a BMS for this battery that ensures optimal safety while increasing the performance of the ventilator. Indeed, Neogy®'s PB560 lithium battery PB560 allows an increase of 20% to 45% (with the High Energy version) of the energy capacity compared to the original battery.
The 25V battery pack has an integrated protection circuit for the PB560 respirator and complies with Covidien / Medtronic 10025023 Rev G specifications for the Puritan Bennett 560 respirator and is UN38.3 rev. 7 transport certified and IEC 62133-2:2017 safety certified.
Batteries Made In France
Neogy®'s PB560 batteries are entirely designed and produced in Mérignac, near Bordeaux, New Aquitaine, France. Prototypes are available very quickly and Neogy®'s teams offer optimal support to manufacturers in the integration of these batteries for the PB560 ventilator.
See the Neoli 25 etchnical specification
Need solutions for the design of your battery?
Neogy®'s team is at your disposal to answer all your questions for your needs concerning the battery of this respirator, or any other industrial project of this type. Do not hesitate to contact us directly via our contact page.